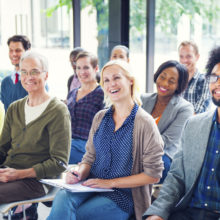 Employee Enrichment Seminars and Presentations are an important benefit included in your comprehensive EAP plan. They are delivered virtually and onsite, directly to employees for maximum effectiveness. All EAP services and benefits are designed to assist employees with a wide range of issues that may impact their performance at work, so our presentations are designed to:
Reduce stress
Build foundational workplace skills
Increase employee awareness on specific topics
Increase activity and engagement
Promote employees safety
With standard contracts, C&FS EAP offers four (4) Presentation Credits per contract year that may be used for Employee Enrichment Seminars and Presentations. Please see the current catalog for more information about availability, credit usage and best practices. We are committed to providing effective presentations to provide optimal support for your organization and employees. For organizations with custom contracts, please see your organization's Agreement or call C&FS EAP to determine the details of your organization's Agreement.
To schedule a presentation, please contact an EAP staff member by calling 716-681-4300, emailing us at contacteap@cfsbny.org or completing the form below