Let's partner for a better Western New York.
What is good for people is good for business!
Those who have worked closely with us know that a C&FS EAP is an asset, and is able to make an impact on the lives of employees, families and the communities we serve.  
The behavioral health needs of any employee group is complex and not always well understood.  Any HR professional will tell you that the majority of their time is spent on issues related to the day-to-day lives of their employees. Between 65 and 85 percent of all employee terminations are a result of personal and interpersonal factors. Even when people are able to stay on the job, there are other symptoms of these problems, such as calling in sick, lack of motivation, and generally diminished productivity. EAP is a comprehensive tool that manages the concerns that lead up to real problems and provides preventative supports.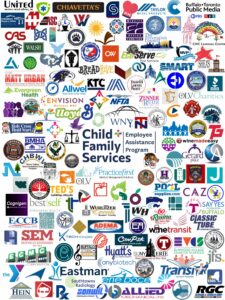 Current C&FS EAP Member Organizations:
8th District Dental Society
Adema Heating & Air Conditioning
Allied Mechanical, Inc
Allwel
American Steam Ship
Amherst Chamber of Commerce
Ambulatory Surgical
Asset Compliant Solutions (ACS)
Aurubis
Bar Association of Erie County
BestSelf
Better Business Bureau, Inc.
Buffalo and Fort Erie Public Bridge Authority
Buffalo Civic Auto Ramps, Inc.
Buffalo Laborers' Welfare Fund – Local 210
Buffalo Municipal Housing Authority
Buffalo Niagara Partnership-First Choice Program
Buffalo Perinatal Prenatal Network
Buffalo Prep, Inc.
Buffalo String Works
Buffalo Seminary
Cazenovia Recovery Systems
CH2M Hill BWTX West Valley, LLC
CHC Learning Center
Cheektowaga Veterinary Hospital
Chiavetta's
Child & Family Services
Chocolate Delivery Systems
City of Buffalo
City of Tonawanda
Classic & Performance Specialties
Cleveland Hill School District
Cognigen Corporation
ConnectLife (Upstate NY Transplant Services)
Copeland Data Systems
Cowpok
Crisis Services
Crowley Webb
Culinary Art's Specialties
Depew Union Free School District
DS Rose Inc.
E&D Specialty Stands, Inc
East Aurora Coop
East Aurora Union Free School District
Eastman Machine Company
Eco Service Pest Supply
Erie County Medical Center (ECMC)
Elmwood Village Charter School
Envision Wellness
Erie 1 BOCES
Erie 2-Chautauqua-Cattaraugus BOCES
Erie County Bar Association Volunteer Lawyers Project, Inc.
Erie County Water Authority
Events at the Wurlitzer
Evergreen Health Services
Falk Schools
Feed More WNY (Food Bank of WNY)
Fredericks Law
Frontier School District
Forbes Capretto Homes
General Mills Cereal Plant
General Mills Flour Mill
Gerard Place
Graham Corporation
Great Lakes Dental Technologies
Greater Buffalo Veterinary Emergency Clinic
Habitat for Humanity of Buffalo
Hamburg Central School District
Harmac Medical Supplies
Harmonia Collaborative Care
HealthWorks – WNY
Hearty Helpings
Hodgson Russ LLP
Holy Cross Head Start, Inc
Hyatt's Graphic Supply
International Imaging Materials, Inc.
International Institute of Buffalo
Jericho Road Community Health Center
Jewish Family Services
Journey's End Refugee Services
K Technologies
Keller Technology Corporation
Lackawanna City School District
Lancaster Central School District
Ledge Creek Development, Inc.
Legal Aid Bureau Inc.
Lehigh Construction Group, Inc.
Leisure Living
Lexington Cooperative Market
Literacy New York Buffalo-NiagaraLloyd Products, Inc. & Lloyd Taco Factory
Lyndonville School District
Matt Urban Hope Center
Medaille College
Medina Central School District
Mental Health Advocates of WNY
MidCity Furnature
Middleport Fire Department
MVP Network Consulting
Neighborhood Legal Services
Niagara Frontier Transportation Authority (NFTA)
Nioga Library System
North Collins School District
North Tonawanda City Schools
North Tonawanda Public Library
Nuttall Gear LLC
ONY Biotech
Orchard Park Veterinarian Medical Center
Parachute Credit Counseling
Parkview Health Services
People Inc.
Power Drives, Inc.
Practice First
Premier Wine & Spirits
Premium Wine & Spirits
Prestige Wine & Spirits
Prevention Council of Erie County
Prevention Focus
Prince Rubber & Plastic Co. Inc.
Reimann & Georger Corporation
Renaissance Addiction Services Inc. (RASI or Kids Escaping Drugs)
Rental Assistance Corporation
Roger L Urban, Inc. dba Platters Chocolate
Rosina Food Products
Say Yes Buffalo
Schofield Care
Shea's Performing Arts Center
Sheet Metal Workers'
Sonwil Distribution Center
Southtown Radiology
SUNY Erie Community College
Synergy Group
Taylor Metalworks Inc.
Ted's Hot Dogs
Tennyson Court
The Center for Elder Law and Justice
The Center for Hospice & Palliative Care, Inc.
The Coppola Firm
The Sisters of St. Francis of Penance and Christian Charity
The Society of St. Vincent DePaul
Tom Greenauer Development
Tonawanda City School District
Town of Cheektowaga
Town of Hamburg
Town of Tonawanda
Town of West Seneca
Transit Animal Hospital Veterinary Services
United Precious Metals Refining Inc.
United Way of Erie County
Upstate Doors
Via Evaluation
Village of Orchard Park
Walsh Duffield Companies
Watts Architecture & Engineering, DPC
West Buffalo Charter School
West Herr Automotive Group
West Seneca Fire District #6
West Seneca School District
Western New York United
Westminster Presbyterian Society of Buffalo, Inc.
Westside Community Services
WH Greene Associates
William S. Hein & Company, Inc.
WNED-TV
WNY Independent Living
WNY Law Center
YMCA Buffalo Niagara
Zenner and Ritter