Emergency Rental Assistance Program (ERAP) Application and Mobile Legal Clinic:
Attorneys from two EAP member organizations, Center for Elder Law and Justice (CELJ), Neighborhood Legal Services (NLS), and the Western New York Law Center (WNYLC) will be onsite at the EAP offices to assist with the ERAP applications and provide legal advice about other housing-related matters. Appointments for the ERAP application clinic are filled, and we welcome EAP members to call Gayle Murphy at (716) 335-7102 to be placed on a waiting list and get information about other events to receive help with the application. The CELJ Mobile Legal Unit will be on site also, walk-ins welcome – no appointment needed, and will be able to provide free "done in a day" legal assistance regarding most civil legal matters.  The event will be held:
Tuesday October 5th, 2:30-6:30 at the Tri-Main Building, 2495 Main Street, Suite 357, Buffalo, NY 14214. This building is accessible for all visitors.
Virtual Depression Screening Event: 
October 14th is National Depression Screening Day.  In June of 2020, the CDC reported that over 30% of all adults report struggling with anxiety or depression symptoms.  Like screenings for other illnesses, depression screenings should be a routine part of healthcare. Please print, post and distribute this PDF Flyer electronically.
Employees and their household members are invited to schedule a 15 minute, private screening with an EAP Clinician today.  After you schedule you will receive a Zoom link and a calendar reminder about your appointment to your email or text, your choice.
Click here to schedule your private screening.
Domestic Violence Awareness Month Speaker Series:
October is Domestic Violence Awareness Month and C&FS EAP is collaborating with C&FS Haven House to provide a virtual presentation series to be held every Wednesdays at noon in the month of October to raise awareness on key topics of domestic violence. View the printable PDF flyer HERE. The planned schedule of speakers is:
October 6th: Noelle St. Vil, PhD, will discuss her research at University at Buffalo regarding DV in Black communities in Buffalo.
October 13: Haven House's own Tara Petty and Sarah Joslin will discuss trauma, high risk factors of domestic violence, and the work of the High Risk Team.
October 20th: Lauri Wierzbicki from Racheal Warrior Foundation will discuss how domestic violence impacts families and loved ones, what signs families should look for and how to respond.
October 27th: Maria "Redd Rox" Redd from 93.7 will share her story as a survivor of domestic violence including the help she received that saved her life, how she built her successful career, and what she is doing today to help other survivors.
Click here to register for the presentation series!
Haven House works to prevent domestic and intimate partner violence and promote peace in the home. Services for survivors include an emergency shelter in a confidential location, long-term transitional housing, and counseling to help individuals cope with the pain and trauma of violence in the home. The more you understand, the more you can help to prevent domestic violence and promote peace in the home for everyone in our community. Anyone feeling unsafe in a relationship can call our confidential hotline at (716) 884-6000 or chatting with a Haven House representative on our online chat system by clicking here. 
Request EAP Services
Fill out the online intake to connect request services from C&FS EAP.
If you need immediate assistance for a non-emergency issue, contact us 24 hours a day, 7 days a week, at 716-681-4300
Browse Our Helpful Resources
C&FS EAP Helpful Resources are a great place to begin if you are looking for information on common challenges.
Click here to browse the helpful resources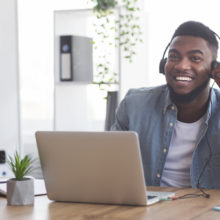 Check out On Demand Webinars
Are you interested in self-care but aren't sure where to start? Are you looking for a quick, relaxing yoga routine to do while you're at work? Has the pandemic disrupted your normal healthy routines and relationships?
View a full list of EAP ON DEMAND webinars
Check out these featured ON DEMAND webinars for some great advice from trusted local experts.
Sign up for C&FS EAP's Email List
Be the first to know when we send out employee communications, including newsletters and mindful moments, and event information and updates.
Signing up for our e-mail list is 100% confidential – we will not share your information with your employer or any other organization.
Learn More About Your EAP Benefit
We all have complex lives and aim to balance many roles. None of us are without challenges, and your EAP team understands that the more support you have to meet life's challenges, the better off you are both at home and on the job. Employee Assistance Programs exist because employers recognize that employees are people first….
Even though your employer has invested in this service for you, your contact with EAP is completely confidential. No one will know you have accessed EAP without your consent.
Click here to learn more about EAP Counseling and Coaching