We remember. We reflect.

We renew our commitment to the work ahead.
As we approach May 14th, 2023, Buffalo and the surrounding community continue to grieve the trauma and loss of May 14th, 2022. Almost one year ago, a lone shooter took the lives of 10 people in a racially motivated, targeted attack. This shooter may have acted alone; however, he was motivated by the racism that continues to exist in our city, country, and worldwide. C&FS EAP is dedicated to honoring the lives lost by providing support to those affected and bringing voice to all efforts that increase equity.
May is also Mental Health Awareness Month, and C&FS EAP will be offering "Mental Health Check-in" appointments to allow staff to meet with a counselor to explore the emotional impact of the past year and identify strengths, needs, and coping skills that promote their wellbeing. More information will be provided in the May 1st events email for you to distribute to staff.
Planning for communication and events related to the first anniversary of the May 14th Mass Shooting in Buffalo
Consider the following:
The audience – Who will you be communicating with, or who will be in attendance? Are you focused on staff, people you serve, funders or customers, or the community at large?
The platform – How will you communicate this message? Will you use email, social media, or a live meeting? Will you be promoting external events or designing one internally?
Essential elements for communication content and events:
Grief remains

–

Not all people were impacted by the events of 5/14/22 in the same way.

We must validate the experiences of those closely connected to the events differently than those who may not be directly impacted.

Asking staff individually and in groups

about how they have been affected and what level of support or commemorating event might be necessary for them.

To promote emotional safety, all participation and discussion must be voluntary.

Hope is growing

– It may also be helpful to identify steps that have been taken by your organization and in the community to increase resources and support in Buffalo.

What has your organization done this year differently in response to last year's events and to increase physical and emotional safety in the workplace?

There is more work to do –

Progress is possible, and we must renew our commitment to the work that is needed to empower the community, confront hate and eliminate discrimination. It could be helpful to highlight future opportunities for involvement, conversation, and connection in the community and our workplaces.

What is the plan this month and for the coming year to address the continued need?
Every message and event planned by leadership to employees is an opportunity to reinforce the commitment to better understanding your workforce and creating an environment where everyone can succeed.
If you are interested in a consultation related to how to support your organization, please contact us at 716-681-4300 or email us at eap@cfsbny.org.

Racial Trauma and Black Lives: An Evening with Kenneth Hardy
April 20th 7pm-8:30pm
If you are interested in participating in this event or would like to learn more, please click on the link below.
Racial Trauma and Black Lives: An Evening with Kenneth Hardy
Promoting EAP – Toolkit
C&FS EAP values our partnership and wants to ensure that you have access to as many resources as possible to promote EAP within your organization. We know that in order to be a successful EAP we need to be visible and we cannot do that without you! In response to our February offering, Best Practices for Promoting your EAP, we have developed a webpage to provide guidance and resources for promoting EAP to employees. Here you will find helpful tips, handouts, and videos that you can share with your employees to help them learn more about their EAP benefits.
*Updated* Presentation Catalog
Check out our updated Spring-Summer Presentation Catalog.
C&FS EAP Presentation Catalog Spring 2023-Summer 2023
New Process for Administrative Referrals
C&FS EAP has updated the process for an administrative referral. You can learn more and watch a short quick start guide by clicking the link below. If you have any questions about this new process, please contact us directly at 716-681-4300 or eap@cfsbny.org.
We Welcomed a New Team Member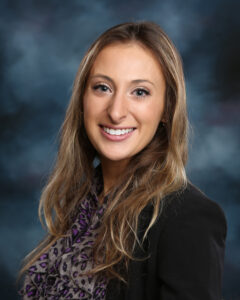 This quarter we are excited to welcome back Maria Crist, LMSW, who completed her internship with us in August of 2021. Continuing her work per diem at The Summit Center, Maria has an extensive background in applied behavior analysis. Maria has also worked with children, teens, and adults practicing trauma-informed care in the community. Maria's education includes a BS in psychology and a BA in dance from Slippery Rock University of Pennsylvania, and her MSW from University at Buffalo. Maria is eager to be returning to C&FS EAP to participate in supporting the wellbeing of our EAP members and the Buffalo Community.
In Case You Missed It Last Quarter: