Summer is Here and Hope is Rising
We hope this Leadership newsletter finds you enjoying Summer 2023. Summer brings opportunities to get out and connect with the community. WNY offers everything from a hike in the local park to taking in a weekend festival and concert with friends and family. Summer is also a time to relax and reflect on you!
This month we kicked off the C&FS EAP Summer Wellness Series:
We have joined together with Lidia Snyder, LMSW, RYT, TCTSY-F, a licensed social worker and a trauma informed yoga instructor, to develop a guided wellness journey, exclusively for C&FS EAP members. Each week you will have the opportunity to learn more about the 8 Wellness Domains, receive some thoughts to ponder, a brief activity and some inspiration for what you might do differently.
**Registrants are entered into a weekly drawing for a $25 Andersons Gift Certificate! ** Last week's winner was from Cleveland Hill School District – Register and you could be the next winner!
Join the C&FS EAP Summer Wellness Series
Empowering BIPOC Youth: Why is early intervention important?
Live Webinar
Hosted by Yvonne Dubois, Chief Diversity, Equity and Inclusion Officer. Presented by Esther Kaul, LMHC and Iana Lal, LMHC from Child and Family Services Mental Health Clinic
Thursday July 20th at 12:00pm-12:30pm
Join us as we work together to prioritize the mental health of BIPOC (Black, Indigenous, and People of Color) youth in our communities. Whether you are a parent, educator, mental health professional, or simply interested in supporting the mental well-being of BIPOC youth, this webinar will provide you with the knowledge and tools necessary to foster resilience, empower young individuals, and help to create more inclusive and supportive community.
Register for: Empowering BIPOC Youth
Connecting with the WNY Community
Presenting to the Buffalo Niagara Human Resource Association (BNHRA):

Megan Andrews, EAP Director, recently presented to the local Chapter for the Society of Human Resource Management (SHRM), Buffalo Niagara Human Resource Association (BNHRA) about "Creating a Wellness Focused Workplace". BNHRA is the pre-eminent professional Human Resource organization in Western New York. It was great to connect with HR community leaders to share this valuable information.
As a Human Resources professional, you know that the keys to success are all about keeping current on HR issues, trends and skills; developing a strong support network; and contributing to your organization's success. If you would learn more about this organization and join in this powerful community, reach out:
Partnership with Compeer:

We are excited to announce our new partnership with Compeer. The Compeer mission is to promote good mental health through meaningful friendships. Compeer promotes mental wellness through the healing power of friendship. This is done through one-to-one and small group volunteer mentoring for youth, adults, older adults, and veterans with a mental health challenge.
Compeer and C&FS EAP are working together to reach more workplaces in WNY. Compeer staff have developed an engaging new presentation called "Workplace Mental Wellness". In this presentation they share information mental health and engage staff in activities to promote a healthy workplace. If you are interested in learning more about this presentation, reach out to us! We are currently scheduling for Fall 2023.
C&FS EAP is growing!
Thank you to all our members for committing to workplace wellness and choosing C&FS EAP. We know you have options, and we value your partnership.
Welcome to our newest organizations this quarter!
Chiavetta's
East Aurora Coop
MidCity Office Furniture
CowPok
Zenner & Ritter
City of Tonawanda
Culinary Art's Specialties
Town of Tonawanda
West Seneca School District
Village of Hamburg
Orchard Park Fire District
Hammond Manufacturing
Steel Workers Local 210
BreadHive
Williamsville Central School District
OLV Charities
OLV National Shrine and Basilica
Niagara Tourism and Convention Corp.
And check out all our members…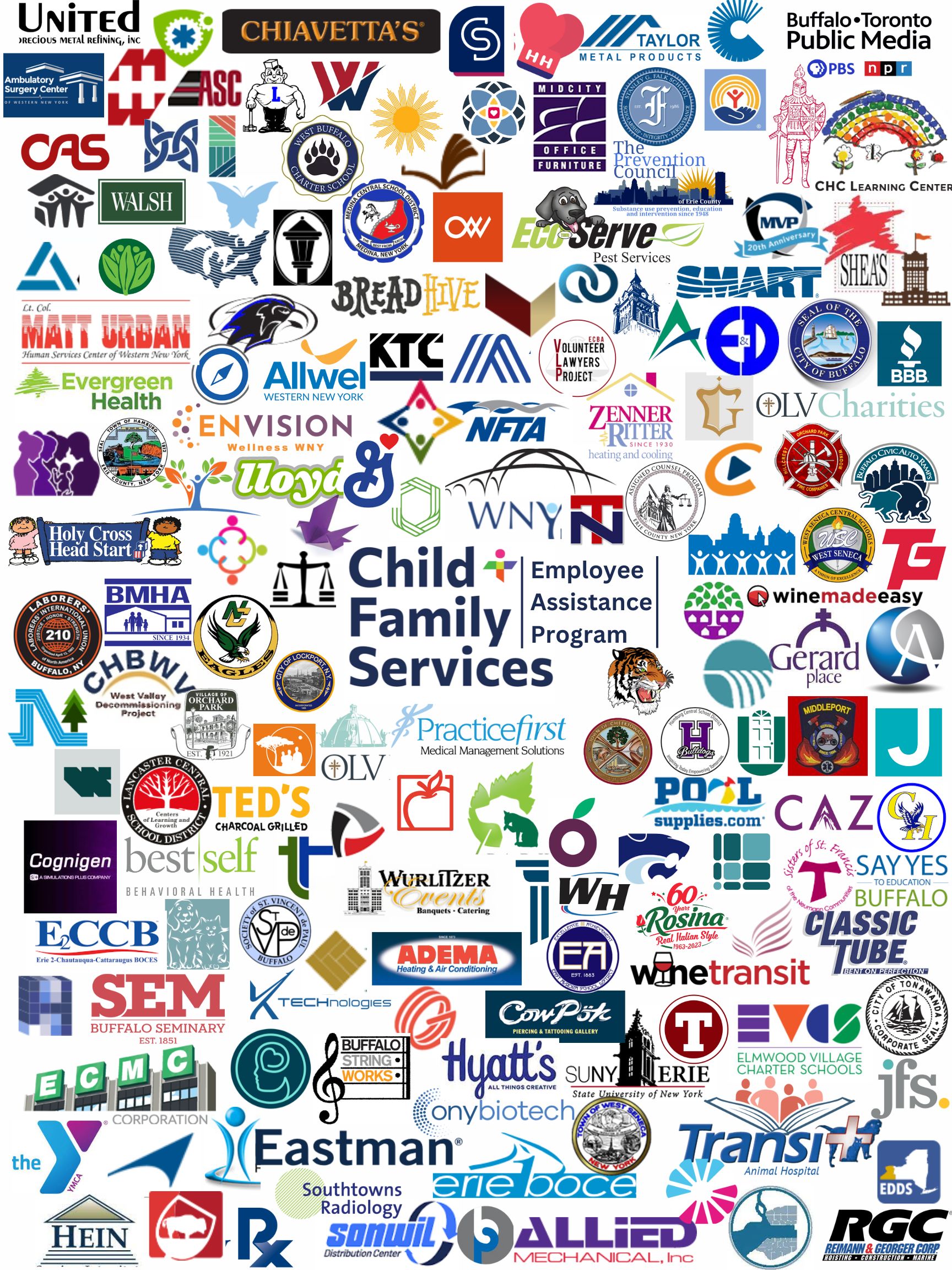 Have you ever considered…
Offering a 4 day work week is a hot topic these days. Many organizations are looking to retain and recruit, while increasing efficiency and productivity. If you have ever considered this, check out this website and learn more about 4 Day Work Week Global, an organization dedicated to the 100-80-100 principle – 100% of the output, 80% of time, 100% compensation.
In Case You Missed It Last Quarter: